All references to LEAP must always be used according to the specifications in this document. Any use that falls outside these specifications is strictly prohibited.
Logos
LEAP Legal Software's only visual representation is the LEAP logo. The LEAP logo has been developed to express the personality of the brand and identify the company within the legal software industry.
The logo or icon should never be taken apart or re-combined in any way to create new artwork.
Primary Logo

Secondary Logo

Icon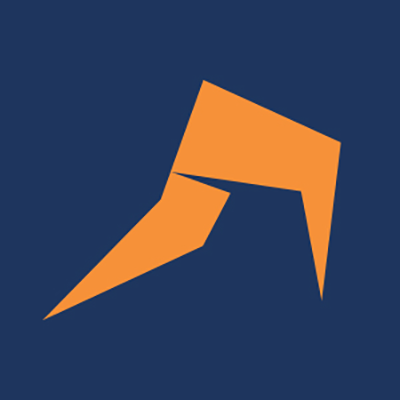 Protective Area
LEAP presentation must always be consistent. Part of this is maintaining a protective area around the LEAP logo. This means the logo should be free from other text, graphics or illustrations. A crowded logo is hard to see, so it has less of an impact on the viewer.

Minimum Size
For best results, the minimum size height for web is 25 px.
Incorrect Usage
The LEAP logo must enhance and contribute to the value of our premium brand. Incorrect usage can undermine this through mixed or unclear messages.
Below are a few examples on this page of incorrect uses of the LEAP logo. If you see any misuse of the LEAP logo, please report it to LEAP immediately.






Colour Palette
Primary
The primary LEAP colours are orange, blue and white.
LEAP Orange is bold and powerful. It embodies the strength and energy of our company. It should be used wherever you want to convey a graphic vibrancy.
LEAP Blue is a dark navy blue. It conveys the premium nature of our brand and acts as a strong support colour for the LEAP Orange.
Secondary
Our secondary colours should be used sparingly throughout the product, and used with primary colours to visually represent the LEAP brand.
| | | | |
| --- | --- | --- | --- |
| Blue | | | |
| Light Blue | | | |
| Grey | | | |
| Light Grey | | | |
Typography
Typography and the consistent use of typefaces is a key element to creating a cohesive look across all communications. The only font that may be used for corporate communications is Open Sans.
Typesetting
To ensure consistency when setting type, formats have been set for the majority of styles. These are a guide only. Always exercise good judgment.
Open Sans typeface for all headlines, subtitles, body, and captions, creating a cohesive typography experience.
Hierarchy is communicated through differences in font weight (Regular, Semi-bold), size, letter spacing, and case.
| Scale | Weight | Size | Case | Letter spacing |
| --- | --- | --- | --- | --- |
| Display | Regular | 28px | Sentence | -0.5px |
| H1 | Regular | 22px | Sentence | -0.5px |
| H2 | Regular | 20px | Sentence | -0.5px |
| H3 | Regular | 18px | Sentence | -0.5px |
| H4 | Semi-bold | 17px | Sentence | 0 |
| H5 | Semi-bold | 13px | Sentence | 0 |
| H6 | Semi-bold | 12px | Sentence | 0 |
| Body | Regular | 14px | Sentence | 0 |
| Button | Semi-bold | 13px | Uppercase | 0.16 |
| Chips | Regular | 12px | Sentence | 0 |